In keeping with Governor Abbot's executive order to mitigate the spread of COVID-19, Trinity Fellowship's weekly "Learn the Bible in 24 Hours" class will be conducted online effective immediately through May 30, 2020

View session 24 of Learn the Bible in 24 Hours online
Welcome to this exciting program which has been designed to give your group a strategic overview of the entire Bible. Chuck Missler developed this series in an attempt to introduce each participating member to what he calls "the integration of Scripture." During this series you will be able to see examples of divine design throughout the Bible. You will see the rule of context where the text is best explained within the whole of the passage. You will gain insights into the power of Biblical prophecy; past, present, and future. Most of all, you will obtain a balanced teaching from the entire Word of God.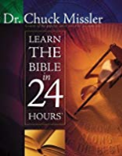 We believe that, "All scripture is given by inspiration of God, and is profitable for doctrine, for reproof, for correction, for instruction in righteousness: That the man of God may be perfect, thoroughly furnished unto all good works."1 Therefore, our hope is,
That the God of our Lord Jesus Christ, the Father of glory, may give unto you the spirit of wisdom and revelation in the knowledge of him: The eyes of your understanding being enlightened; that ye may know what is the hope of his calling, and what the riches of the glory of his inheritance in the saints, and what is the exceeding greatness of his power to us-ward who believe, according to the working of his mighty power, which he wrought in Christ, when he raised him from the dead, and set [him] at his own right hand in the heavenly places, far above all principality, and power, and might, and dominion, and every name that is named, not only in this world, but also in that which is to come. Ephesians 1:17-21
Therefore, we encourage the serious student to study the whole Bible cover-to-cover.
Our desire for you is that you experience the joy and fulfillment that can only come from a comprehensive study of the Bible. It is a journey that you may start... but you will never be able to finish. In your quest to know God through His Word you will be increasingly driven to the conclusion that the revelation of Jesus Christ is its loftiest goal. The apostle Paul put it this way, O the depth of the riches both of the wisdom and knowledge of God! how unsearchable are his judgments, and his ways past finding out! For who hath known the mind of the Lord? or who hath been his counsellor? Or who hath first given to him, and it shall be recompensed unto him again? For of him, and through him, and to him, are all things: to whom be glory forever. Amen. Romans 11:33-36